Al Jiyad Stables : Experience the Arabian Desert on Horseback

Mare Elston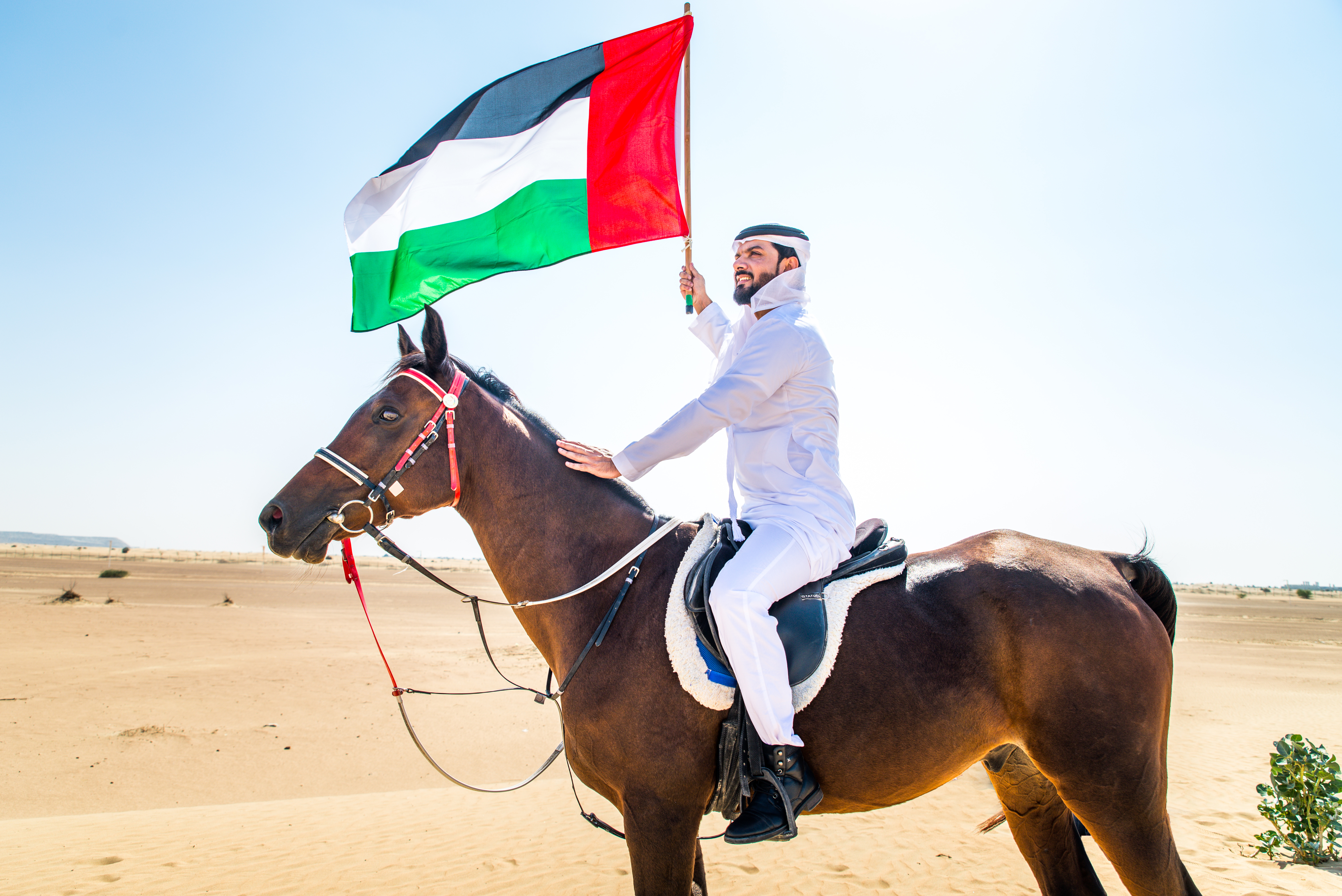 If you've ever dreamt of galloping through the dunes of an Arabian desert, a ride at Al Jiyad Stables is the perfect, short-getaway for you.

Set in a quintessentially Arabian backdrop of golden rolling dunes, Al Jiyad Stables offers an experience you will not forget. At about a thirty-minute drive from Dubai, you can escape the city into a tranquil setting in the beautiful Al Qudra desert. Whether it is a canter across the dunes on a beautiful arabian horse or a camel ride you are looking for, you will have the opportunity to see some unique Emirati wildlife at close range. The Al Marmum conservation area is home to the arabian oryx, gazelles and desert foxes amongst other animals and the best view is on horseback.
Riding Arabian Horses:

There is an ancient legend about the origin of the Arabian horse. Long, long ago in an Arabian desert, a dust devil bore down on a man and his tribe. The man froze in fear at the sight, but then, from the centre of that mass of swirling sand and dust came an extraordinary sight. The man rubbed his eyes, for he did not trust the vision, but when he opened them again, he saw it was true. Out of that chaotic dust came prancing hooves that galloped across the desert, moving so fast they seemed to swallow the ground.

The man exclaimed "Welcome this creature," as above those hooves emerged one of the most beautiful animals he had ever seen. The man gathered his people to show them the magnificent and magical being. "It drinks the wind," he announced, and they called it for a long time Drinker of the Wind; only later was it called a horse. Every tribe wanted horses of their own, and from that first swirl of strength and beauty came thousands of others.

The Arabian horse has been prized the world over, and is one of the oldest breeds of horses. The breed is distinguished by their distinctive head and high tail carriage. Their origins date back 4,500 years. They originated on the Arabian Peninsula and spread in all countries of the world either through trade or wars. Known for their exceptional intelligence, large hearts, and legendary endurance, it is a special pleasure to experience and ride these incredible horses in their native lands.

Desert Hacks or Endurance Rides:

At Al-Jiyad, your riding ability won't hold you back. With a range of activities available, there is something for all riders to enjoy. If you're a beginner or intermediate rider, you can enjoy a peaceful hack in the desert. This is an even more special experience if you get to witness the sun rising or setting over the quiet desert. But if you're an advanced level rider, you can enjoy a more exhilarating endurance ride on the fabulously maintained tracks. Both experiences offer unforgettable memories of this unique environment.

Pony Rides for Children:

Riding on horses can be a little scary for kids, but that's okay because Al Jiyad also offers pony riding for children, whether you would like your children to ride for fun or therapy, Al Jiyad has the ponies to cater to your needs. This is also an excellent way to get your young ones into the saddle

Come meet the Arabian horse, Drinker of the Wind, its homeland, and enjoy a Bedouin desert ride – it's like no other on earth. Feel history through this animal, seemingly born from the shifting sands of the desert itself. For this unforgettable experience book a ride at Al Jiyad Stables with Cavago! Visit the Al Jiyad Stables page on our website, where your next ride is just a few clicks away.